You've been a tramp haven't you?
So you know all about it?
That's why you stopped giving them money.
They just spend it on drink.
At dinner parties or in warm,air conditioned places you judge them. You even shout at the TV.
'Don't buy them a drink. Buy them a sandwich'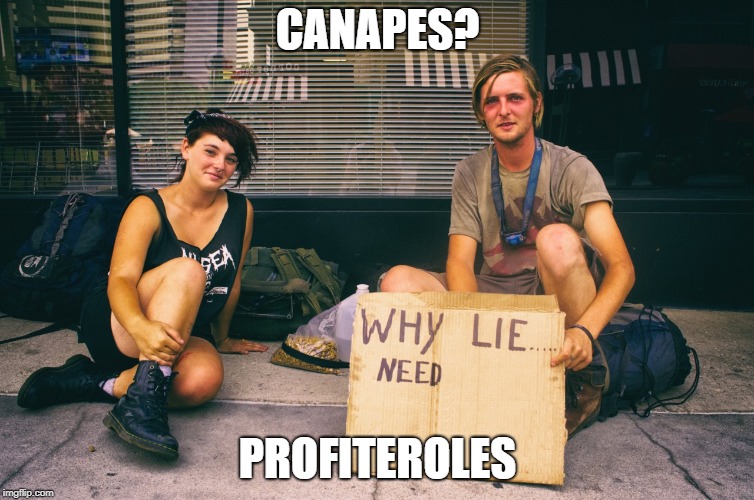 You may not have thought that a sandwich doesn't keep you warm at night.
Then you discovered not everyone will take a sandwich.
It was a personal low when you were actively shoving a sandwich into a tramps face when he didn't want it.
Tramp abuse.
But I was a tramp once.
I learnt early on to take every sandwich I was offered.
I had a good spot, lots of people. More sandwiches than I could possibly eat.
I could get 50-60 sandwiches a day if I started early.
Once I changed my cardboard sign to 'Will take sandwiches' I got more and more.
A lot of people had a bad impression of tramps and wouldn't give – judgmental like you.
Once they saw the sign it resolved things for them. They were happy to give.
You get tired of sitting in the street,people judging you all day. But I was happy to sit for sandwiches.
It all started when I became friends with the local newsagent.
I offered to trade him my first sandwich. He gave me about a third of its value and he put it up for sale.
I was acing it, I became the sandwich king.
I actually hired people to sit out with 'will accept sandwiches' signs. Dress them up as tramps – couldn't trust those real tramps. They would steal my sandwiches.
It was when the shop owner retired I was able to take over the premise.
My pretend tramps were all over town by this time.
I even made myself a sandwich.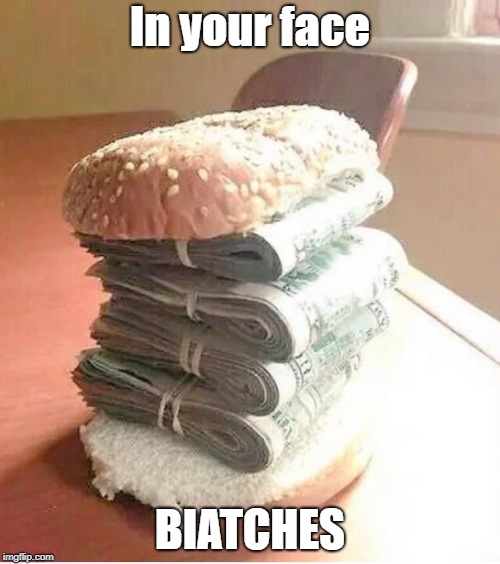 Hey, I'm not the one to rub it in peoples faces.
Things just got better and better for me,really.
All thanks to my sandwich sign and judgmental liberal values.
I ended up opneing three sandwich shops.
Can you count?
Three sandwich shops.
Here's a photo of me after I opened my third.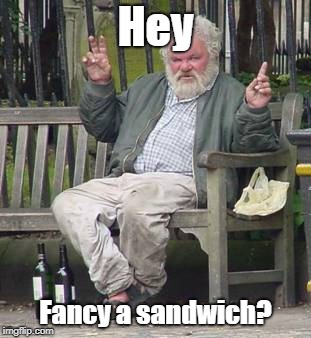 I was never really into personal care and if I want to sit on a bench reeking,and having the odd bottle of wine,whats it to you?
I'm the sandwich king,dammit.
I ain't no tramp.
Ok. I might be a tramp.
But  I gave you a story,didnt I?
Now will you give me some  money instead of another effing sandwich?